"Mount Wudang, also known as Can Shang Mountain or Tai He Mountain, is located in the Qin Ling Mountain Range of northwestern Hubei Province. Because the scenery around Mount Wudang is so majestic and beautiful, it has been given the name The Famous Mountain Under Heaven. Wudang is a major center for the sudy of Daoism and self-cultivation.
The legendary founder of Wudang wushu was Zhang San Feng. Zhang San Feng was a Daoist who lived in these mountains to cultivate the Dao during the Ming Dynasty. Zhang San Feng was born in 1247 A.D. in the area of what is known today as Liao Ning. Zhang San Feng is a very famous figure in the history of Chinese wushu. His martial abilities and healing techniques were superb and he was known to have cured many people of illnesses. This brought about great admiration from the common people. The emperor of the Ming Dynasty erected a monument on the mountain to commerate the contributions of Zhang San Feng. During Zhang's younger years he met Daoist Huo Lung (Fire Dragon) with whom he studied the Dao. After attaining the Dao, Zhang moved to Wudang Mountain and cultivated an additional nine years. Many historical documents suggest that Zhang San Feng was the person responsible for synthesizing the wushu of the common people with the internal methodology and philosphical principles of Daoism. Wudang wushu is primarily known for its internal styles.
Zhang San Feng created Wudang wushu by researching the basic theory of Yin and Yang, the Five Elements, and the Eight Diagrams (Ba Gua). Wudang wushu has a very close relationship with the theories of Taiji, Yin and Yang, the Five Elements, the Eight Diagrams, and the Nine Palaces. Zhang San Feng was able to incorporate the Daoist practice of changing the Essence into Internal Energy , Internal Energy into Spirit , and Spirit into Emptiness to form the theory of Wudang wushu."
-
Introduction to Wudang Martial Arts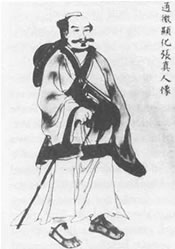 Grandmaster Zhang San Feng: Bibliography, Resources, Links, Quotes, Notes
Wudang Qigong