Red Bluff, North Sacramento Valley, California, USA

USDA Zone 9
Lately, we have had lots of rain in the valley and snow in the mountains. This week, thus far, 4 inches of rain has fallen. Snow levels are down to 4,000 feet in the Yolla Bolly's to the west, the southern Cascades to the east, the Trinity Alps in the northwest, and Mt. Shasta to the north.
More rain and snow are expected for the next six days. Consequently, little gardening activity outside for a week or two because of our soaked clay soils. The next photograph, taken in 1/2012, shows how the snow covered Yolla Bolly's look from our backyard. This mountain range is about 30 miles to the west of our home.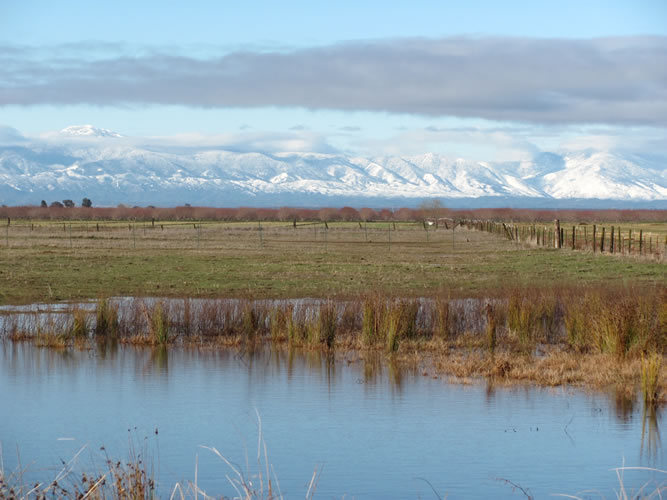 Typical Weather for Our Area Normally, in March, we have daytime high temperatures of 64ºF, nighttime low temperatures of 42ºF, and we get 2.7 inches of rain.
Red Bluff Gardening Notebooks of Karen and Mike Garofalo
March: Quotations, Poems, Sayings, Lore
Spring Equinox Celebrations
Spring: Quotations, Poems, Sayings, Lore
Gardening: A Somaesthetic Practice
March Photographs by Karen Garofalo
March Gardening Chores in Red Bluff
Browsing and ordering from seed and garden catalogs.
Planting potted trees and shrubs.
Placing cold sensitive potted plants in protected areas or indoors.
Pruning and mulching dormant trees and vines.
Repairing and sharpening tools.
Fertilizing with 16-16-16 or manure.
Planting seeds in containers in the greenhouse.
Planting some vegetable starts in the ground.
Watering as needed.
Removing deadwood from trees and shrubs.
Moving bulbs.
Raking up fallen twigs and branches.
Weeding around the base of small trees and shrubs.
Mowing and weeding as needed.
Cleaning and repairing drip irrigation lines.
Making up To Do lists.
Spring Cleaning inside the house.
Spraying dormant trees and shrubs.
Painting fences and art objects as needed.
Bringing spring flowers indoors to enjoy.
Developing Spring Resolutions for personal improvements.
Fixing up lawn mowers and other power tools for outdoor work.
Sharpening and oiling hand tools.
Home improvement projects.
Roto-tilling and double digging as needed.
Updating March and Spring webpages.
Reading, reading, reading.
Karen Garofalo took all the photographs shown below at our home in Red Bluff, California.