The first Taijiquan form I learned in 1986 was the Standard 24 Movement T'ai Chi Ch'uan Form in the Yang Style of T'ai Chi Ch'uan. At that time there were no books or instructional videotapes on this popular form. Since that time, nearly 25 years have passed. Now there are dozens of books and instructional DVDs and webpages on the subject of the 24 Form.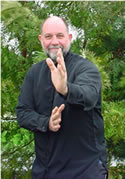 Mike Garofalo 'Playing the Pipa'
Standard Simplified Taijiquan 24 Form

. Research by Michael P. Garofalo, M.S. This webpage includes a detailed bibliography of books, media, links, online videos, articles, and resources. It provides a list of the 24 movement names in English, Chinese, French, German and Spanish, with citations for sources of the movement names. It provides detailed descriptions of each movement with black and white line illustrations and photographs. It includes relevant quotations, notes, performance times, section breakdowns, basic Tai Chi principles, and strategies for learning the form. The Peking (Bejing) Chinese National orthodox standard simplified 24 movement T'ai Chi Ch'uan form, created in 1956, is the most popular form practiced all around the world. This form uses the Yang Style of Taijiquan. Published by Green Way Research, Valley Spirit Taijiquan, Red Bluff, California: Webpage URL:

http://www.egreenway.com/taichichuan/short.htm.

File size: 269 Kb.
This webpage provides many good suggestions for a person learning this form on their own if there is no Tai Chi class in their area.
I give information on many other fine books by other good authors on the 24 Form in my webpage: Cheng Zhao,

Foen Tjoeng Lie, Eric Chaline, Le Deyin, etc..



My students tell me that their favorite instructional DVD on the 24 Form is:

Tai Chi - The 24 Forms
By Dr. Paul Lam


I have taught this lovely Tai Chi form to hundreds of people since 2000. Everyone tells me how much they enjoy learning and practicing this gentle form.

I also teach and enjoy playing the Chen Style Taijiquan 18 Movement Form created by Grandmaster Chen Zhenglei. Actually, in the last year, I prefer practicing the Chen 18 Form more.